Creasey Mahan Nature Preserve in Goshen, Kentucky
One of Oldham County's greatest attributes is definitely Creasey Mahan Nature Preserve in Goshen! There are open fields, nature trails, water features, a great nature center, programs and now an amazing new play area!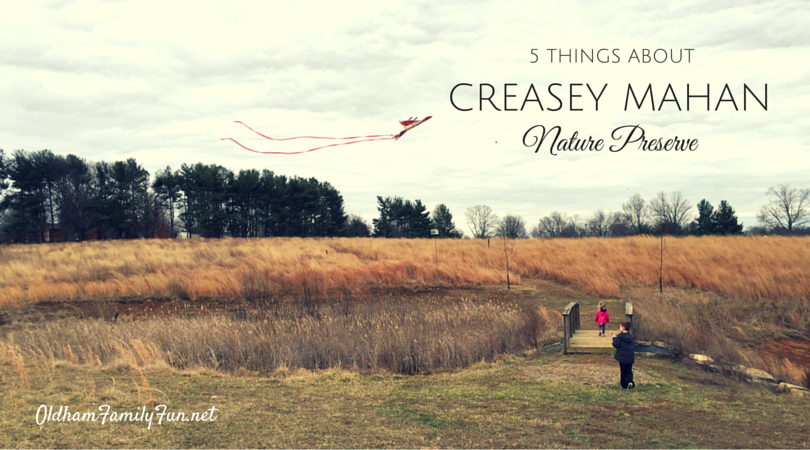 There are surely more than just five great things about Creasey Mahan Nature Preserve, but you will have to visit and discover them all for yourself!
5 Things About Creasey Mahan Nature Preserve
1. The Preserve is 170 acres with 9 miles of hiking trails, a brand new playground, gazebos, public restrooms, cool frog pond, waterfalls and natural springs.  It is also dog-friendly, so bring Fido on a leash!
2. The Preserve is visitor-supported.  Through charitable donations, visitors can explore for FREE! You can also tour the grounds virtually with Tavia. Check out the video below. 
3. There are several fun events planned during the entire year, some are even FREE!  Family campouts, a Trick or Treat Trail, a Butterfly and Dog Adoption Day, Family Fun Day and Christmas Celebration are just a few of the great events! 
4. The indoor Nature Center has exhibits, crafts and a cool scavenger hunt for children!  Check their website for hours. (The Nature Center is currently closed due to Covid-19.)
5. They offer two summer camp sessions available for children entering 1st grade – 6th grade! The nature-based preschool, Thrive Forest School is also located at Creasey Mahan. 
Follow Creasey Mahan on Facebook or visit their website for more information on all of the family-fun they offer!