Duke Energy Children's Museum in Cincinnati
This is a partially sponsored post. We were given admission for the purpose of review.



The
Cincinnati Museum Center
at Union Terminal is currently undergoing renovations, but the Duke Energy's Children's Museum section is now back open! The drive from Oldham County is a little over an hour and easily accessed off of the interstate.
Admission to the museum is reasonable: Adults are $10.50, Children ages 3-12 are $8.50 and Children ages 1 & 2 are $5.50. We found the museum is best suited for children ages 8 and under. There are a few exhibits that were appropriate for children older than 8, but the majority of exhibits will appeal to younger children. There will be plenty more options for older children, once all of the renovations are completed at Union Terminal.
Duke Energy Children Museum has several areas for exploring, hands-on learning, creating and imaginative play. The Woods is a great area for all ages to climb, slide, walk across a rope bridge, find their way through a maze, crawl in a tunnel to see river creatures up close and personal and much more. Close by is a large water table play area. Across the museum is a large space designed for children to explore different careers and adult roles. In Kids' Town, children can do things such as shop at Kroger, serve at a diner, run their own lemonade stand or care for animals at the local vet office. This area merges into another area where children build using legos, big blue blocks and play with construction machinery. Because the areas are so close together, some of the play items are scattered and disorganized. The children were all still having fun, but we did find that some areas in Kids' Town were depleted of the items and we had to skip them.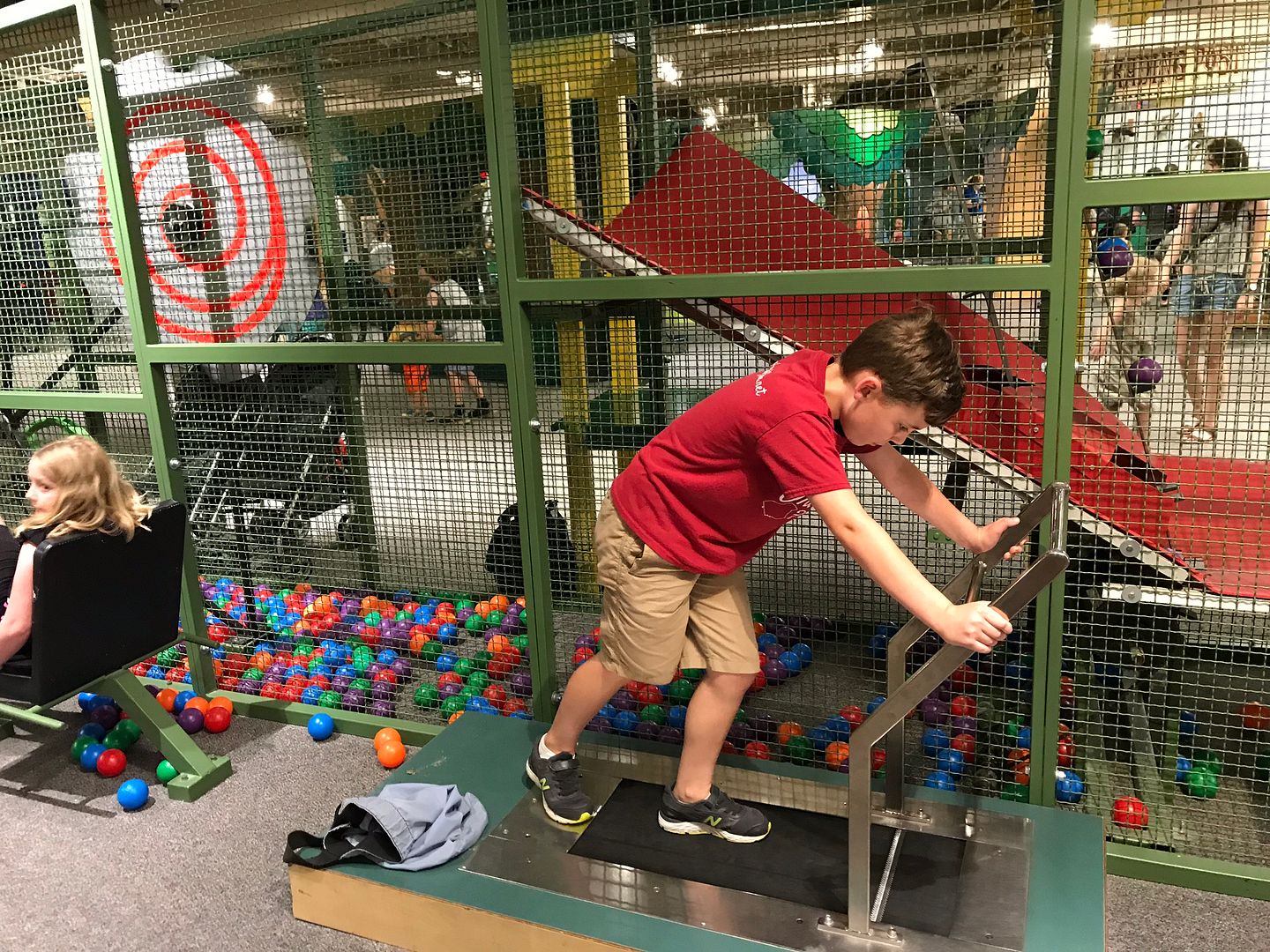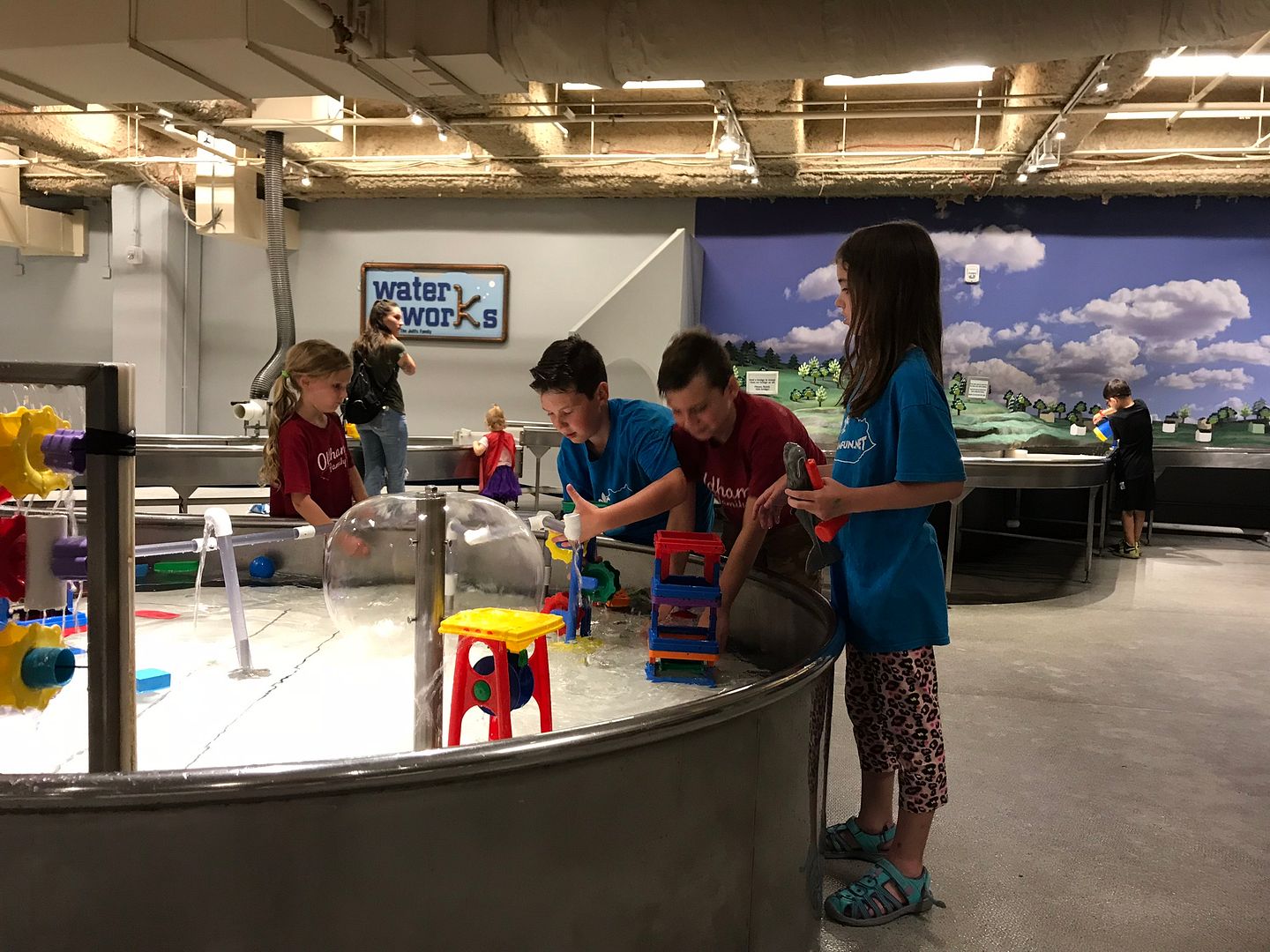 If your children want a break from running around, there is a KidSPACE for creative play through STEAM activities. The museum plans workshops or children can choose their own project. Make sure you allow yourself time to visit this space because supplies might run low closer to closing time. There is also a smaller area at the museum for preschool children to work on planned projects at smaller tables and lead by helpers.
The crowd at the museum is significantly more manageable after 2pm. If you have younger children that may be overwhelmed, Little Sprouts Farm is specifically for children 4 and younger. It offers a great space for littles to run and explore without the older kids. Another low-key area is near The Woods where snakes, frogs, fish and other creatures are on display. Children can also explore fossils and other exhibits in this area.
Families can also take a break just outside the children's area at several cafeteria tables. There is a small stand selling food, light snacks and drinks, but we saw several families with their own outside food. There are also dining options close to the center in downtown Cincinnati if you want to leave and come back.
The Children's Museum has special exhibits throughout the year. For an extra charge families can experience more hands-on and explorative play at these exhibits. Check their website to see what is scheduled during your visit.
Plan a trip to Cincinnati for a fun day at Union Terminal. Break up your museum visit and plan a lunch at a unique restaurant in downtown Cincinnati or pack a picnic to share at a nearby park. Washington Park is near the museum center and has interactive fountains for the children to enjoy. The Museum Center is open seven days a week and there is a small discount for purchasing your tickets online and printing them at home.