Maker Monday at the Oldham County Schools Arts Center in Crestwood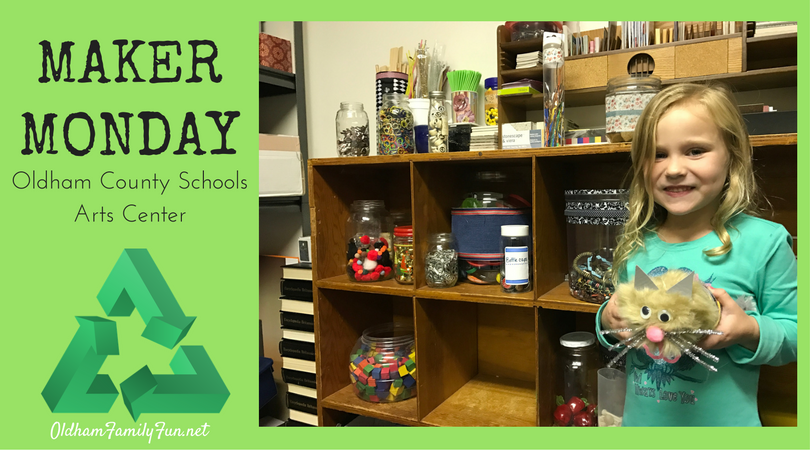 The Creative Reuse Center programs will end at the end of May 2018. Please check with the Arts Center before you plan to attend Maker Monday.
Mondays are no longer blah thanks to Maker Monday at the
Oldham County Schools Arts Center
! For $5, crafters of all ages can create whatever creation they desire, finally start a Pinterest project they've had pinned for months or help a child with a school project. The possibilities are endless!
I took my five year old to Maker Monday a few weeks ago and she loved it! We had no idea what to expect and did not have a project in mind. Ms. Leah is very welcoming and helpful. She showed us the supply room and pointed out a few items. She was enthusiastic about the creative reuse process and had fun ideas for different crafts.

She showed my daughter a big furry ball and said it looked like a kitty. My daughter was sold and we knew we wanted to start a project around the furry ball. We started with the cat's face using googly eyes, pipe cleaners, leather remnants and a pom pom. We found that once we got started on the project, we wanted to keep expanding on it. Once the face was complete, we decided to make an entire cat. We went back to the supply room and found an empty peanut butter jar, yarn and larger pipe cleaner. We ended up with a secret compartment kitty cat! The process was a lot of fun and relaxing.
The work room has a few tables, scissors, glue sticks, hot glue guns, staples, tape and more for the craft projects. Children younger than 10 need to be supervised in this area. The supply room has endless items from beads, wooden letters, corks, ornaments, books, fabric scraps, DVD cases, clothespins and so much more. You are free to take as much of something as you need, but to take only what you think you will use. You can also take supplies home to finish a project or start a new one at home. If you have an idea for a project, you can contact Leah to see if the supplies are available. The inventory is constantly changing based on what is donated and found. It's all recycled items, nothing is purchased.
Maker Monday is a fun way for children and adults to get creative together. Reservations are unnecessary and there is no charge for an adult helper. Maker Monday is every Monday (except when Oldham County Schools are not in session or on holidays) 4:30-6:00 PM in the basement at the Oldham County Schools Arts Center. (Always double check with the Arts Center in case the time changes during the school year.) You can call the Arts Center for more information at 502-241-6018 or contact Leah at leah@makingsomethingofit.com
Making Something of It Facebook Here