Where to Find Pumpkins Around Oldham County
Pumpkins! We have your list of where to find them around Oldham County. Plan a whole day of fun with your family or just pick out your perfect pumpkin together at one of the roadside and farm markets around the county.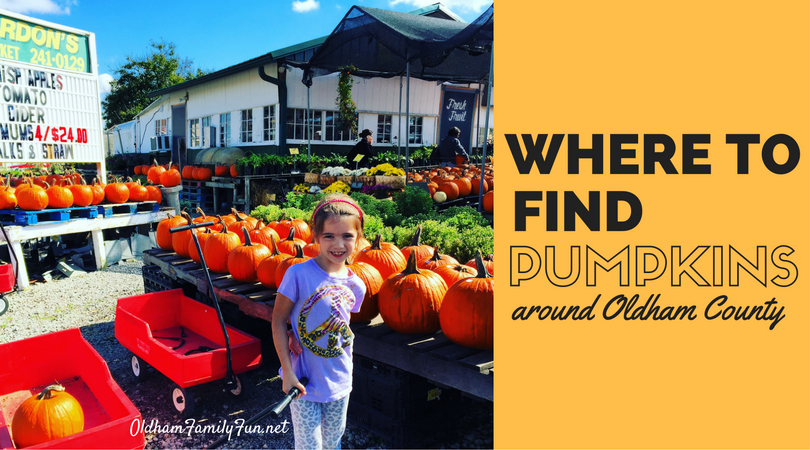 Many of the businesses listed below have other fun activities to go along with pumpkin picking.  As always, with any crop, it is always best to contact the business first to check the availability. Happy picking!
Pumpkin picking in Oldham County, and more!
Feed & Seed Depot
6315 W Highway 146 Ste B Crestwood, Kentucky 40014
502-241-7886
Pumpkins, gourds, apples, mums and more!
Facebook here.
6462 Hwy 146 Crestwood, KY 40014
502-241-0129
Pumpkins of all sizes locally grown in Kentucky and Indiana.  Find other fall décor and treats: straw bales, mums, corn stalks, gourds, apple butter and more!
Facebook here.
LaGrange Farmers' Market & Artisans
Located in downtown LaGrange, Main Street
Open on Saturdays 9am-1pm
Find pumpkins, gourds and other fall décor and treats from local farms.
Facebook here.
Ashlock Farms
1700 E Hwy 22 Crestwood, KY 40014
Roadside stand with several sizes of pumpkins and gourds.
Caywoodland Farms
3918 West Hwy 22 Crestwood, KY 40014
Roadside stand with several sizes and colors of pumpkins.
Clover Cottage
7614 W Highway 146 Pewee Valley, KY 40056
502-541-3829
There is a stand in front of the store with pumpkins, gourds, mums and more!
Jericho Farmhouse
137 Old Jericho Road Smithfield, KY 40068
270-562-0890
Visit for some delicious ice cream, pick up some beautiful mums and take a tractor ride to pick out a pumpkin!
Rosedale Farm
5501 Old Floydsburg Road Crestwood, KY 40014
Venmo or pay with cash. Pumpkins and mums.
Gallrein Farms
1029 Vigo Road Shelbyville, KY 40065
502-633-4849
U-pick pumpkins or purchase in their market. Many other family-friendly activities (some with additional admission fees), petting zoo, food, music, corn maze and more!
Facebook here.
Mulberry Orchard
1330 Mulberry Pike Shelbyville, KY 40065
502-655-2633
Hayrides to the pumpkin patch, corn and soybean mazes, playgrounds and yummy treats in the market place. Check their website for activity hours, some are limited during the week.
Facebook here.
Faul Family Riverside Farm
4845 Sulpher Road, Sulpher, KY 40070
502-641-2641
Pick up a pumpkin at their Annual Fall Festival on October 8, 2022. Other fun activities on this day too!
---
Click here for more fall fun around Oldham County!
Check out this even bigger list from Louisville Family Fun HERE.