Rock Painting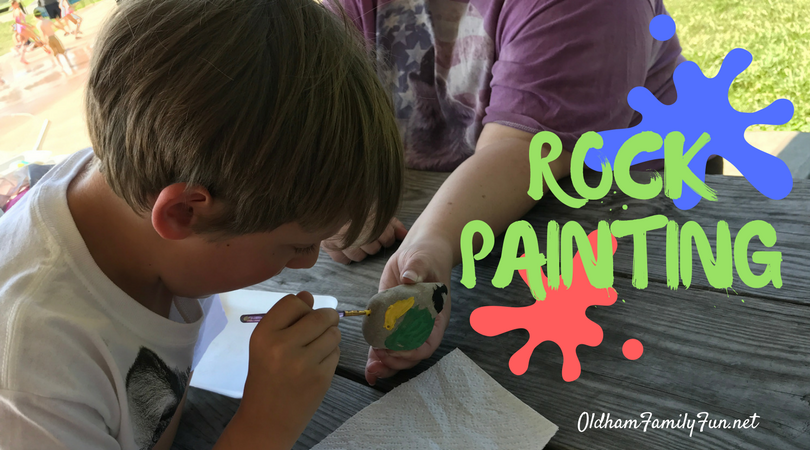 You have probably seen some painted rocks popping up around Oldham County or the Louisville area. Recently on Facebook, we discovered a few local groups that are organizing the rock painting and placement of the rocks.
Our local rock painting group is Oldham County "Rocks" and we love their message! Through painting rocks and hiding them in our community, the group hopes to promote kindness, spread joy and create togetherness. If you look at their Facebook page, it is filled with posts from Oldham County residents and beyond about the rock they found, where they found it and how excited their children or even they were to find it.
With a little bit of scrolling through Facebook Groups, I was able to find a recommended local rock company that has the perfect rocks for painting. River Slick Rocks and River Blend Rocks are perfect for painting and are surprisingly affordable! I picked up over 50 rocks for under $2!
Acrylic paints work best on the rocks or you can be fancy and use several different paint pens or sharpies for your design. Acrylic paints are dirt cheap too and can be found at Wal-mart. Make sure you pick up a sealer for when the paint dries. Modge Podge works or you can use a spray sealer. (The spray sealers can sometimes make the sharpie run.)
The rock design itself can be as simple or complex as you want it to be. I went to my trusty Pinterest app for inspiration and found a ton of ideas. Paint a picture, an animal, an emoji or just write an inspirational message to your rock finder. Some local groups also like it if you leave the group name on the back of the rock. The rock finder can then post on the Facebook page that the rock was found.
So you might be asking yourself, what's the big deal about a painted rock?
1) This is frugal family fun. The rocks were cheap and I already had the paint supplies. I spent the most on the sealer and it was still under $5.
2) This is an activity all ages can enjoy. I found myself really getting into my design. My kids loved thinking of clever things to paint and then write on their rocks. I loved the creativity!
3) Why not spread a little cheer and happiness in your community or even beyond? You can choose to leave the rock at a neighbor's house, a library, favorite walking trail, outside your school or vacation spot.* It was nice to hear the hiding spot ideas from my kids and who they were thinking of surprising. *(It's always best to check with a business or park first before hiding a rock. There are some local parks and businesses that have asked to be excluded from the hiding. Also, don't hide the rocks in the grass – they don't work well with lawnmowers.)
Make sure you follow Oldham County "Rocks" on Facebook. They have a rock painting event coming up in July at the Arts Center. The Louisville Group #502Rocks! will be at Family Fun Day at Creasey Mahan on July 16th too! Both of these events should be a lot of fun and an opportunity to be creative with your family.