Small Business Saturday: Unique Gift Buying in Oldham County
Don't drive far, stay close to home and shop local! Oldham County has many locally owned businesses. We highlighted some places to shop in Oldham County this holiday season. Maybe you'll find yourself stopping in a new place for the first time and seeing what great businesses we have in our area!

Not only will you find one of a kind items and activities, you will develop relationships with business owners living in your community! We started with a brief description of a few of our favorite places to shop in Oldham County.
And don't forget about all of the yummy restaurants, salons and spas, dance studios, gymnastics and more. Many have specials or gift certificates available. Check out our Experience Gifts List.
Some of our local favorites (scroll down for SEVERAL more)…
Addie's Goods – If your loved one has a heart for helping others then Addie's Goods is the place to shop. This boutique has quality goods handmade by organizations offering economic empowerment & abundant life around the world. There is a personal story behind each crafted item -choose a one of a kind item that's special to you or your loved one. Women's clothing and jewelry, journals, children's items, home décor and more. Located in Crestwood.
Mercantile on Main – This is a store you do not want to pass by in LaGrange. Inside the teal building, you'll find a mixture of handmade, vintage and repurposed goods. We especially love the bourbon barrel and tobacco stick products. There are great gifts for men, women and children. Grab a delicate Kentucky themed necklace, a set of bourbon glasses or vintage ornament for that special person on your list. Many of the gifts are customizable, too! When you shop here you support several local artisans like Curry's Beer Crafts, Porch Light Studios and Tobacco Barn Craftsman.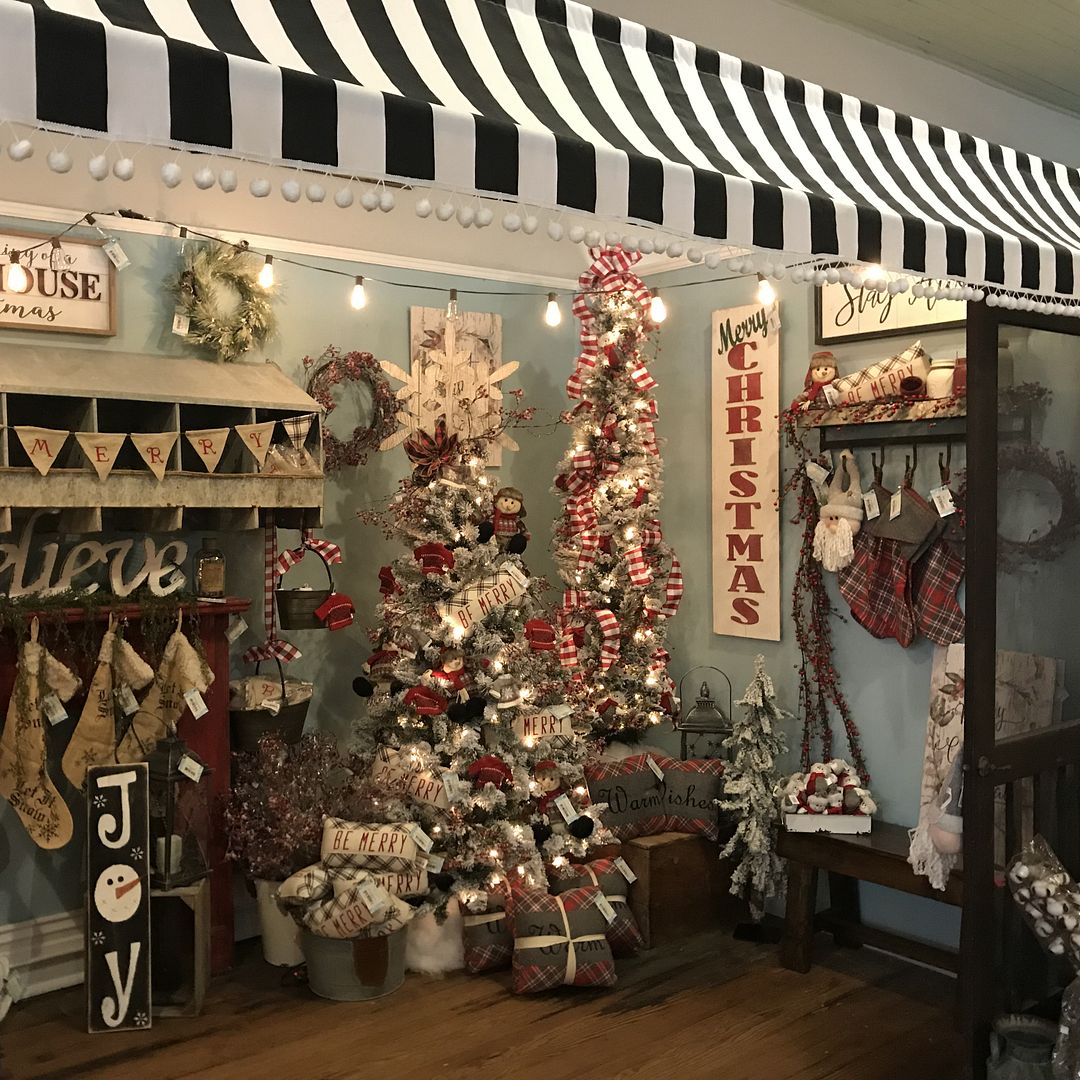 Picked N' Painted – Each year Picked N' Painted is transformed into a magical winter wonderland. The store is located on Main Street in downtown LaGrange and is beautifully decorated with all of your holiday hosting and gifting needs. I lost count of how many trees are up in the store, but each one has a unique theme with coordinating bows and ornaments. The fun and sassy tea towels are great hostess gifts. We like the customizable signs ranging from bible verses to family names. Your dining room banquet table will not be bare after you visit Picked N' Painted and see all of the holiday décor.
Feed and Seed Depot – Another Crestwood favorite is this small garden and feed center. If you have a gardener on your list, stop in this store. We know it's hard to think of gardening when it's so cold outside, but your purchase will be appreciated once the warmer months return. The owners and staff are knowledgeable and friendly and will help you find what you need. They have gifts for non-gardeners also. Pick out some succulents and ask for help making a creative arrangement. These make great hostess or teacher gifts. Their farm fresh eggs and other ingredients can help you make that dish you have to take to the holiday party. Pair the local honey with some tea and a cute mug from one of the other stores listed in this directory.
The Little Kentucky River Winery – If you're headed to a holiday party or hosting, pick up some wine from this local winery. They have a variety to choose from. Their Oldham County location is in LaGrange, right along the railway tracks on Main Street. A couple of bottles of local wine will be appreciated by your 21 and over friends and family.
Knock on Wood Country Mercantile – We have said it before, but this restaurant/store is a hidden gem in Wesport, Oldham County. Their inventory is always changing, but visitors can find great home goods, clothing, jewelry, candles, holiday items, furniture and more!

CRESTWOOD AREA
3rd Turn Oldham Gardens
Addie's Goods
All About Kids
Bobbi Lynn's Boutique (online)
Cailin Art Studio
Clothes Boutique
Crestwood Meats
Crestwood Music Shop
Feed & Seed Depot
Fred Astaire Dance Studio
Kentucky Artisan and Distillery
Mainstream Boutique
Oldham County Schools Arts Center
Open Range
Skincare Spa By Pilar
Sugar Babes Antiques
Sweetness
Walker Fabrics
BUCKNER AREA
Sisters Tea Parlor & Boutique
Stogie Annie's
The WOOFERY & Spa
LAGRANGE AREA
Absolutely Fabulous
All Aboard Liquors
Bloom's Boutique
Cherry House
Copper Awning
Friends & Fiber
Gallery 104
Goose Creek Cycle & Skate
Greater Louisville Massage Therapy
LaGrange Antique Mall
LaGrange Coffee Roasters
Mercantile on Main
Old Oak Framehouse
Starview Greenhouses, Garden & Gift Shop
The Little Kentucky River Winery
Tinsel, Twine & Spirits
Traderbaker's Flea Market
Uptown Country
WESTPORT/GOSHEN/PROSPECT AREA
Country Garden Florists
Knock on Wood Country Mercantile
Pink Julep Boutique
Power & Grace Gymnastics
Woodland Farm
PEWEE VALLEY AREA

Clover Cottage
Did we miss one of your favorite small businesses? Please let us know! Email here.