Summer Camps
Registration for 2022 Summer Camps is coming soon! Don't miss out!
We are so excited to be able to share this list of camps for Oldham County kids.
There's a camp for just about every interest! Science, animals, nature, art and more – Oldham County kids will have fun this summer!
---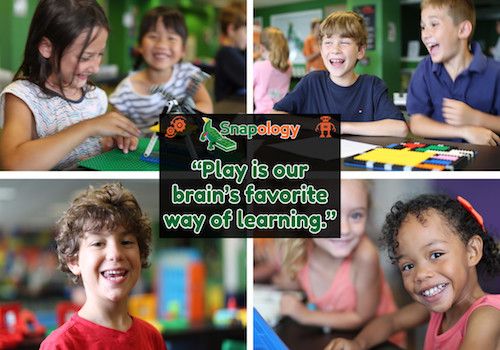 Snapology has tons of exciting LEGO® STEM camps planned this summer, including family
favorites like Pokémon, Star Wars, Escape, Creature Creators, Science of Slime, and many more! As always, all full-week campers will get a t-shirt or LEGO® mini-figure, depending on the
camp location.

Camps start at $129 and vary by location and number of sessions. Lunch stay, early drop-off and late pick-up are all still available at no additional cost. Summer 2022 locations include the Jewish Community Center, Celebration Hall in Middletown, and the Fern Creek Community Center. Snapology programs bring STEM / STEAM to life using LEGO® bricks, technology and other
engaging tools. Our camps provide a fun, safe and inclusive environment for children ages 5-12 to learn about robotics, programming, engineering, art and science, and boost their problem solving and teamwork skills, all while having a ton of fun with their friends.
See why families love our camps each summer – please visit our summer camps calendar to read full descriptions and sign-up today! Snapology of Louisville
---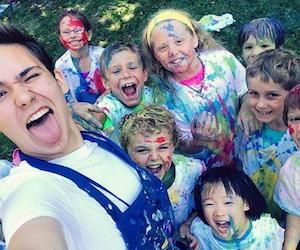 Coming into our 9th year of summer camp, we are excited to spend this summer learning about new artists and their techniques through our 9 fun and exciting camp themes. Each week we will offer two themes for parents/kids to choose from.
At Whet Your Palette Summer Camp – During the week, we will work on a variety of different art projects and paintings while learning about one of our Artists of Focus and their technique. We offer three time slots during the day, and parents can choose to send their kids to one, two, or all three time slots.
Multiple Whet Your Palette Summer Camps with themes offered every week through summer.
This year's themes are:
Harry Potter– We're bringing the wizarding world to you!
Storybooks & Fairytales– Let's bring the art from the pages of your favorite story books to life!
Dr. Seuss- Oh the places you'll go! We will explore art with Mondriau and Liza Lou in this exciting and creative world of Dr. Seuss.
Popits & Fidgets- We'll be creating new projects using every kid's favorite fidgety toys.
Messy Slimy Bubbly-We are amping up this year for smoosh art, honey slime, Nerf paint guns and massive bubble coloring.
Outer Space- Art projects that are out of this world!
Disney Plus- Projects inspired by Disney's most loveable characters.
It's a Jungle Out There- Let's explore the wild side of painting!
Video Games- From the screen to real life; we're bringing your favorite video games to summer camp this year. 
---
Experience 64 acres of summer fun in Goshen (plus a few options at our High School, too!) during St. Francis School's "Camp Curious" summer camps! We welcome all students in the Louisville area to explore, learn, and develop through small camp sizes and expert teachers in a nurturing and exciting environment!
Our Preschool half-day camps are open to children ages two through rising kindergarten and run June 6 – July 1. Our camp curriculum builds on developmentally appropriate activities that promote early literacy and critical thinking. We provide learning experiences that build confidence, independence, social skills, and conflict resolution skills. Summer sessions include Hello, Summer!, Treasure Hunters, Let's Explore!, and Preschool Jamboree.
Our kindergarten – 8th grade full-day camps run May 31 – July 29. Our camp curriculum allows campers to build on their strengths while encouraging them to explore and develop new skills and interests. We offer a variety of camps that emphasize active, experiential learning, problem solving, self-expression, critical thinking, and collaboration. Our specialty camps this summer include two SFS favorites – Dungeons & Dragons and Musical Theater Camp, featuring Matilda JR.
Open to 1st – 12th graders, we offer academic camps through The Learning Center (TLC) at St. Francis School. Students who benefit from intensive academic review before heading back to school can participate in small groups to learn and have fun! Also, open to 1st – 12th grade students, our half-day, weeklong athletic camps hosted by our Athletic Department provide a fun way to develop fundamental skills in various sports.
For more information and to register, please visit StFrancisSchool.org/summer-camp or contact Dorian Holmes at 502.795.3860 or DHolmes@StFrancisSchool.org.
---
Find more camps in the Louisville area HERE.
---
More camps for Oldham County Kids (in alphabetical order)
Some camps have not updated their website to reflect 2022 information.  Check back for updates.

All About Kids (Crestwood) – dates all summer.
Camp Hi Ho (Louisville) – dates all summer.
Camp Invention (Crestwood) – June 13th-17th
Chance School Summer Under the Trees (Louisville) – June & July dates.
Creasey Mahan Nature Preserve (Goshen) No Nature Camps for 2022. Camps offered are through Thrive Forest School. June & July dates.
LaGrange KY Parks & Recreation Basketball Camps (LaGrange) – Boys Basketball Camp July 19th, 21st & 22nd, Girls Basketball Camp August 5th, 6th & 8th
Los Monitos – June & July dates.
Louisville Zoo – Camp dates beginning at the end of May to the beginning of August.
North Oldham High School Archery Camp (Co-ed) (Goshen) – June 20th-22nd
Oldham County 4H Camp (Lake Cumberland) – June 27th-July 1st
Oldham County Schools Arts Center (Crestwood) – June & July dates.
Power & Grace Gymnastics and Dance Studio (Prospect) – June & July dates
Safe Splash Swim School (Louisville)

Singing Tree Stables (Crestwood) – June & July dates 
Snapology (Louisville) – dates all summer.
St. Aloysius Summer Camp (Pewee Valley)
St. Francis School "Camp Curious" (Goshen) – June & July dates
Stone Creek Camp (Crestwood) – June & July dates
Whet Your Palette (Lousiville) – Dates beginning at the end of May through the first week in August.
Windhover Farm (LaGrange)
YMCA (Buckner) – Dates beginning at the end of May through the first week in August.
Zubrod Stables (Prospect) – June & July dates