Yuletide at Yew Dell Botanical Gardens
This fun, family-friendly holiday event offers visitors an opportunity to celebrate the holidays in a beautiful setting both indoors and outdoors. Learn more about Yew Dell Botanical Garden's Yuletide.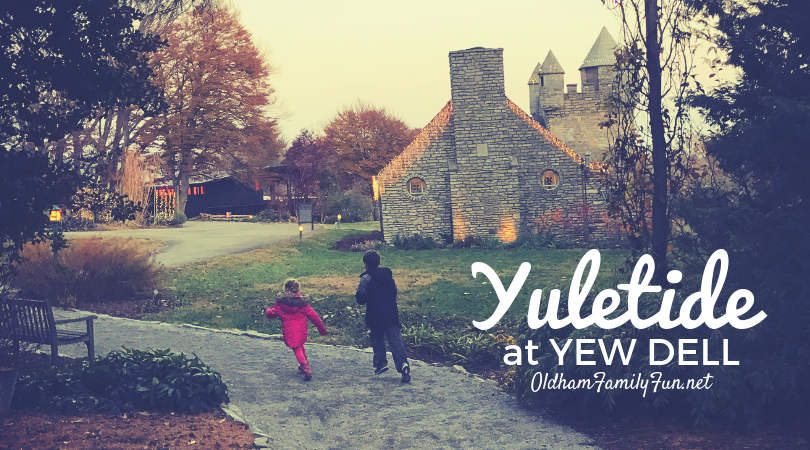 Yuletide is an annual holiday event held at Yew Dell Botanical Gardens.  The grounds are transformed into a magical winter wonderland.  Sparkling icicle lights fall from the castle, the popular rows of trees have white lights wrapped around their trunks and holiday cheer can be heard around the gardens.
Yew Dell has made some adjustments for the 2020 event. Guest numbers are limited to 150 people on the grounds and tickets must be purchased ahead of time. YuleTide is November 27, 28, 29 and December 4, 5 and 6. Each night has two entry and exit times. 
There are several stops to make during Yuletide.  For 2020, Yew Dell has enhanced light displays for more outdoor fun and photo opportunities.  Inside the barn is where you will find a great holiday train display and snow village. 
Of course, Santa Claus will be at Yew Dell as well!  Make sure you have your wish lists and take a photo.  Tasty holiday refreshments are available for purchase as well as some holiday shopping. Yew Dell is providing a take-home craft for children this year.
Grab a hot cocoa and walk the grounds. The light displays are incredibly beautiful and the atmosphere is joyful and peaceful during this event. 
Tickets must be purchased ahead of time.  The cost is $10 for adults, $5 for seniors and children (6-17) and free for children 5 and under.  There are discounts for Yew Dell members.
Event times on the dates listed below are: 4:30pm entry/5:45pm exit and 6:15pm entry/7:30pm exit 
Friday, 11/27
Saturday, 11/28
Sunday, 11/29
Friday, 12/4
Saturday, 12/5
Sunday, 12/6
Yew Dell Botanical Gardens is located at 6220 Old LaGrange Road Crestwood, KY 40014
2020 Facebook event here.