Coffee Spots in Oldham County
Not that you really need a day to enjoy coffee, but September 29th happens to be National Coffee Day. Try one of these local spots to get your caffeine kick!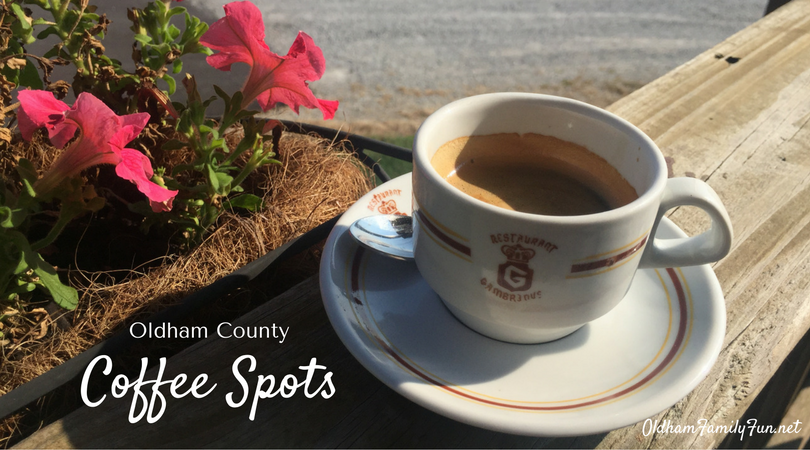 Here are a few of our favorite, locally-owned, spots around the Oldham County area to grab a cup of coffee and a treat or meal to go with it! What's your favorite spot?
Open Monday – Saturday
Why we love this spot: It is located in Downtown LaGrange on Main Street amid cute boutiques, antique shops, other businesses and eateries.  Specialty teas are also available.  This spot has a very family-friendly atmosphere with plenty of board games to choose from or attend a Bluegrass Jam Night on Monday 6:30pm. There are a few patio tables and chairs outside to enjoy the trains that pass in front of the café.
Facebook
110 East Main Street, LaGrange
Revival Coffee Company
Open Monday – Sunday
Why we love this spot: A drive-thru coffee shop is always a bonus!  Revival is located in the LaGrange Square Shopping Center near Hometown Pizza.  They have a large variety of drinks: coffee, Italian sodas, iced drinks and baked goods from Q&A Sweet Treats.
Inspirational Grounds Café/Delizie Italiane
Open Tuesday – Saturday
Why we love this spot: Located on the "other side" of the tracks along Old LaGrange Road in Buckner, this coffee spot is a great hidden gem in Oldham County. Try their robust espresso with a delicious breakfast plate.  When the weather is nice, the deck is a great place to sit with a book, warm cup of coffee and enjoy the quiet views.  The chef always comes out to talk to you, which is a nice touch to the already warm atmosphere!
4724 Old LaGrange Road, Buckner
Wilder's Café
Open Wednesday-Sunday
Why we love this spot: This restaurant has delicious, homecooked food to go along with your cup of Joe.  There is something for everyone. Wilder's Café serves LaGrange Coffee Roasters Coffee.  There is also a cold brew option.  Grab a delicious cookie to enjoy with your hot beverage of choice or one of their breakfast items. Bonus: they have a drive-thru!
Facebook 6408 W Hwy 146, #1, Crestwood
Knock on Wood Country Mercantile
Open Monday – Saturday
Why we love this spot: This cute café and store is off the beaten path in Westport near the Ohio River. We love this spot for a great slice of homemade pie and coffee.  Make sure you visit for breakfast or lunch too and follow them on Facebook to hear about special events happening in the store and café.
Facebook 7001 Main Street, Westport
OliPollo
Open Monday-Sunday
Why we love this spot: This is a fairly new to Oldham County business.  They have great Peruvian rotisserie chicken menu items as well as a variety of other food choices.  Customers rave about their iced coffee, so give it a try when you're craving some caffeine and chicken!
1024 New Moody Lane, Crestwood
Please & Thank You
Open 7 days a week
Why we love this spot: Their chocolate chip cookies! Also, besides their great varieties of coffee drinks, their iced teas are also delicious. There are cozy spots inside the shop and a great patio, too.
Facebook 9561 US-42, Prospect
Coming soon to LaGrange: The Coffeehouse by Simply Friends!