15+ Things to do at Yew Dell Botanical Gardens
One of our favorite Oldham County places to visit is Yew Dell Botanical Gardens.  There really is more to see and do here than you realize.

Besides admiring the beauty of the plants, flowers and trees all around Yew Dell Botanical Gardens, there are several other ways to spend your time during your visit. We wanted to share some of the ways we like to spend our time.
Yew Dell Botanical Gardens is located at 6220 Old LaGrange Road in Crestwood.  They are currently re-open with some COVID-19 visitor guidelines in place. Please click HERE to learn more about the restrictions before visiting. The buildings are currently closed to visitors, but the restrooms are open.  There are no programs scheduled for this time.  For virtual programs, please see their website for more details. 
The current hours are 10am-4pm Tuesday – Saturday and 12-4pm on Sunday. Closed on Mondays.  Admission is free for members (if you plan to visit more than once, we highly recommend considering a membership). $5 for children ages 6-17 and adults over 55. Free for children 5 and under and $9 for adults.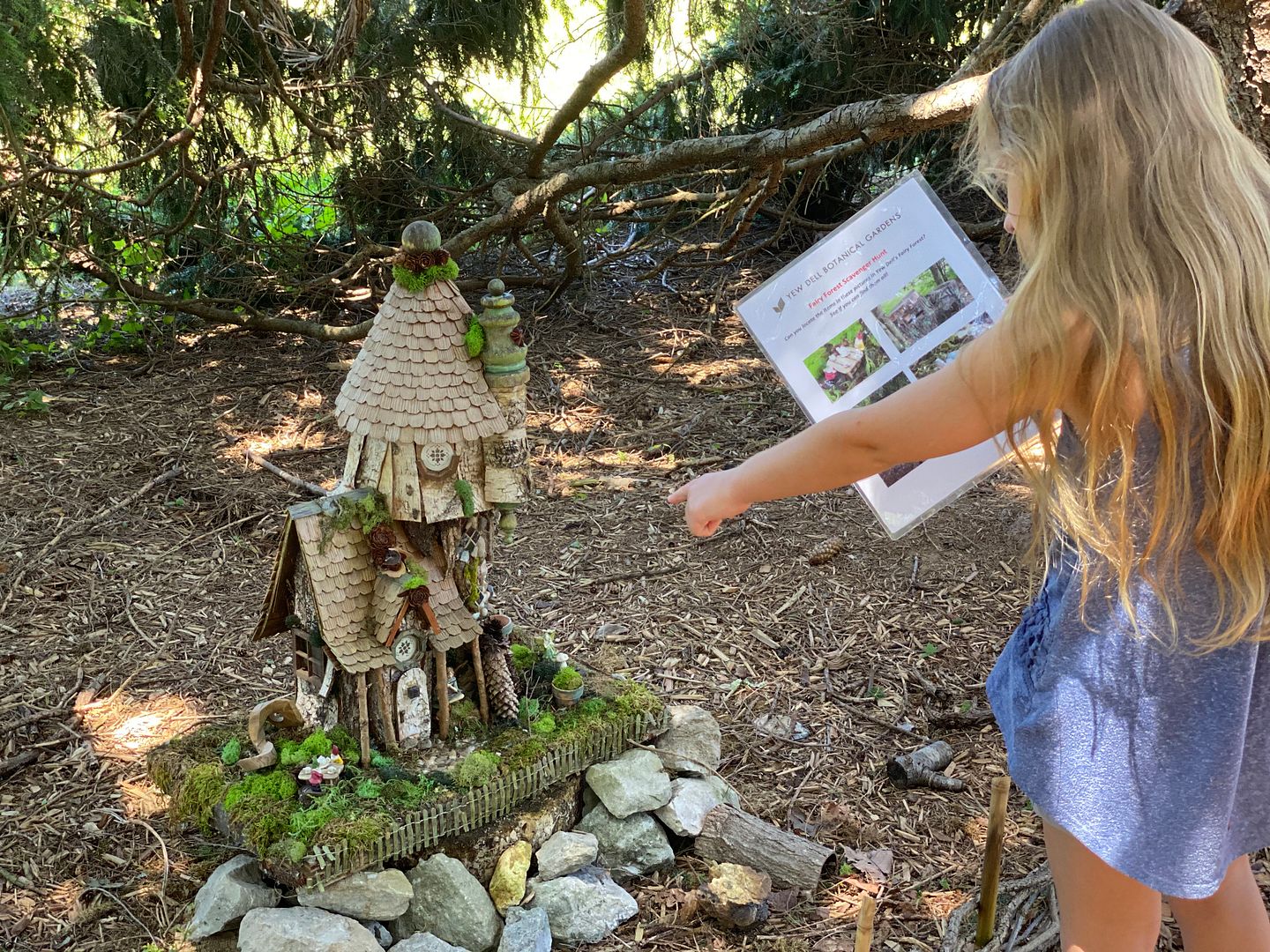 1. Fairy Garden – Of course this would be #1 on our list. These tiny fairy houses are so unique and fun to look at for all ages. You'll find yourself noticing the tiniest of details with each house. Look up in the trees, you'll see more fairy hideouts. 
2. Picnic – Our family likes to picnic or have a treat while we our visiting. Wilder's Café is right down the street from the gardens. Grab a cup of coffee, lunch or a treat and find the perfect spot to enjoy it. There are plenty of picnic tables hidden away in shaded areas, benches, rocking chairs or pack a blanket to really spread out. 
3. Scavenger Hunts – There are two different scavenger hunts for children to enjoy. Ask for the laminated sheets in the barn.  The hunts aren't overwhelming and the items are all in the same areas. Children find it exciting to find each picture and discover new things that they might not have noticed before.
4. Children's Playscapes – Located near the entrance to the gardens, is an area designed for children to make some outdoor music. We like to start and end at this area. Run through a bamboo tunnel or knock on a xylophone. Picnic tables are close by if you want to take a break here too.
5. Photography – You'll find it hard not to snap a photo while visiting the gardens. Whether you get a shot of your children running through the rows of trees in the Secret Garden or the tulips in bloom by the castle, you can spend quite a while capturing the beauty around the gardens. Let your kids become the photographer. Let them use your phone or grab one of your old digital cameras and let them take the shots!
6. Be Your Own Tour Guide – Families can certainly be their own tour guide during the visit. Grab a map at the entrance and make your way around the gardens. There are signs near some areas with QR codes to scan.  Once scanned, you can learn more about the different buildings, trees, plants, history and more.
7. Spot the Pollinators – One of our favorite areas is the Pollinator Meadow located below the castle terrace. This area is full of buzzing bees and fluttering butterflies. Visitors can walk around the pollinators or watch them from above.  If you do go down from the terrace, try to find the old swimming pool window!
8. Hike – We enjoy hiking the Yew Dell trails in the cooler months (especially fall). The trail is 1.5 miles and winds through the woods. There are a few areas to catch small streams of water and waterfalls when it's not so dry out. 
9. Create Art – If you want to be creative while visiting Yew Dell, you can certainly pick a spot to sketch or draw. Be inspired by the nature around you.  Bring a sketch pad and colored pencils for your children to create some pieces of art.
10. Wide Open Spaces – There are a few greenspaces around the gardens that are perfect for children to run a little. We like to bring bubbles with us to add to the fun. The Garden Maze is also fun for a quick exploration.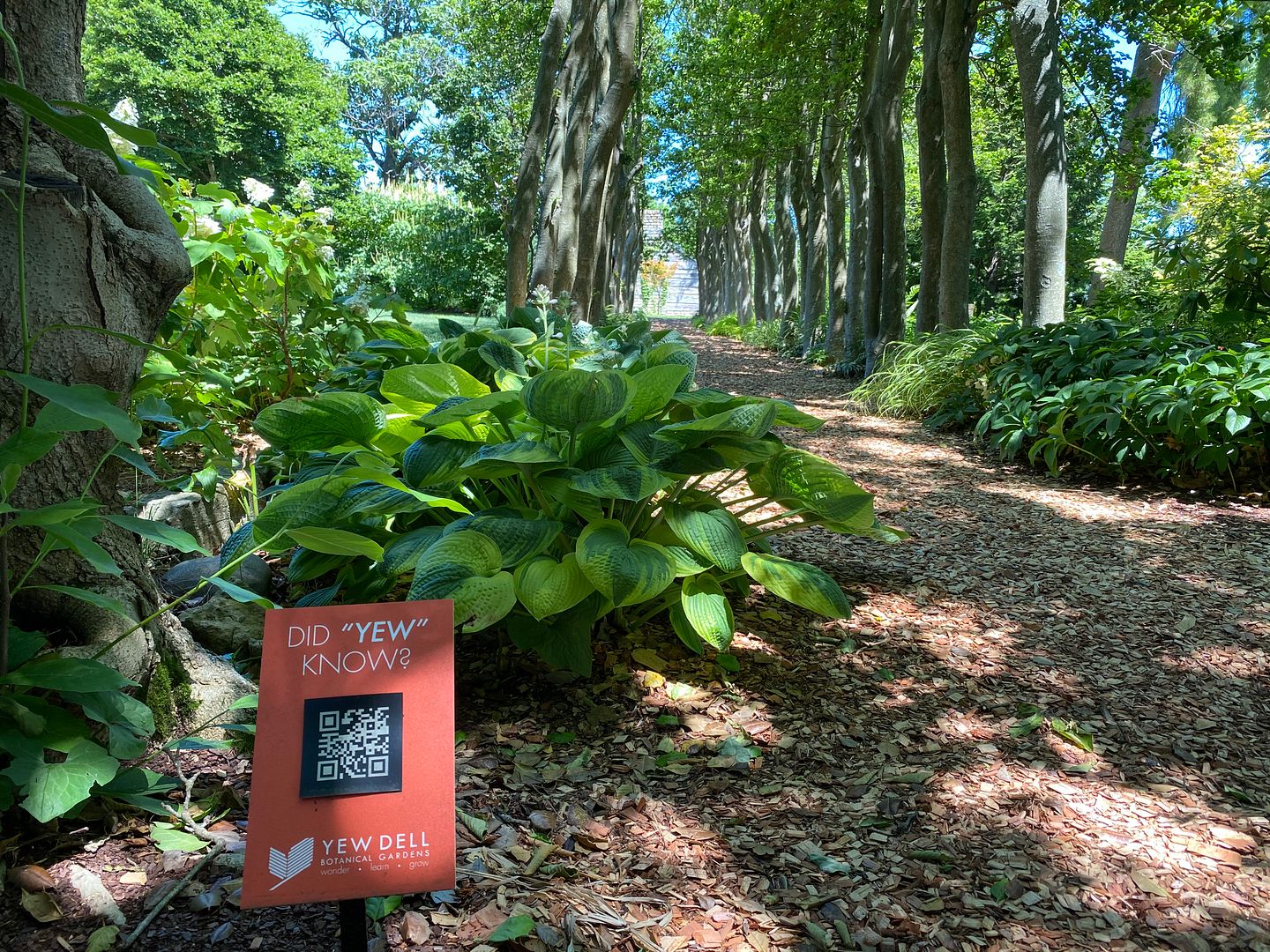 11. Take a Walk – If you are looking to get a little exercise in a beautiful setting, Yew Dell is perfect.  Most of the paths are paved and are stroller friendly.  Some of the paths are mulched, but still very easy to maneuver. (There are designated days that Yew Dell allows dogs on the grounds.  Be sure to check their website for details before bringing along your dog for the walk.)
12. Read – The gardens offer a peaceful, quiet atmosphere perfect for reading. Pack a book and find a spot to read. We like to get to the gardens early and get our summer reading in for the day.  The rocking chairs by the castle or patio by the event area are some favorite spots. 
13. Look Up – I can thank my daughter for this idea.  Pack a blanket and find a spot in the trees to gaze at the leaves, clouds or wildlife. It's great to hear your child's imagination about the cloud shapes or their excitement when they see a pretty bird or mischievous squirrel.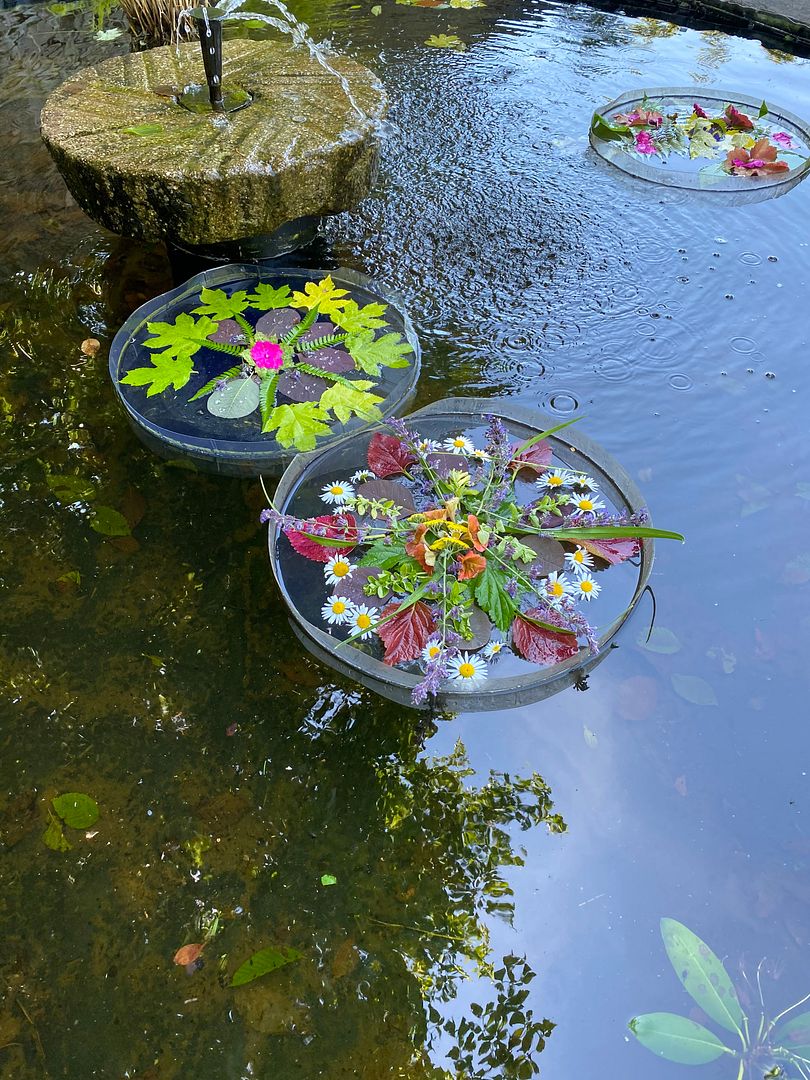 14. Water Features – There are two small pools with ever changing plants surrounding them.  We usually find at least one frog and several tadpoles in the pools.  The beautiful mandalas are also wonderful to watch float around. 
15. Shop – There is a great gift shop with very unique garden inspired items. Check out the children's section with books, games and other fun things for the little ones.  Local honey is sold when in season along with other local artisan pieces. 
16. Be Inspired – Perhaps you want to take a go at creating your own garden at home.  Yew Dell has starter plants for sale and has plant sales scheduled during the year.  The gardens are always changing with the season, so visit often to continue being inspired. 
17. Admire the Architecture, Sculptures and Carvings – The history behind some of the structures and artwork throughout the garden is very interesting.  Many of them were hand-built by the original owner, Theodore Klein. New sculptures are placed throughout the grounds too and are always popping up.
18. Explore Buildings* – We have our fingers crossed that the wonderful buildings will be reopen soon for visiting. We love the greenhouses and of course, the castle. 
19. Programs & Events* – Another aspect of Yew Dell that we are looking forward to returning are the great programs and events that they plan throughout the year.  Children in the Dell is a family favorite as well as Boo Dell. There are great adults only programs too, that we hope will return soon.  A membership offers free admission or a reduced admission to some of the programs and events held at Yew Dell.
20. Volunteer – Want to give back to this great gem in Oldham County and visit more often?  Inquire about volunteering at Yew Dell.  
Bonus: There are two garden kitties. Their pictures are on the wall in the barn.  We always love a good visit from Remington and Helen when we visit. See if you can spot them napping in the gardens.