Directory of Take Out, Drive Thru and Curbside in Oldham County
Families can still enjoy local takeout during this time. Most of the Oldham County restaurants, bakeries, coffee shops and others are still offering their wonderful dishes and goods. We curated a list to help you find places around town that are still open for carryout, delivery or curbside pickup. Please support our Oldham County businesses.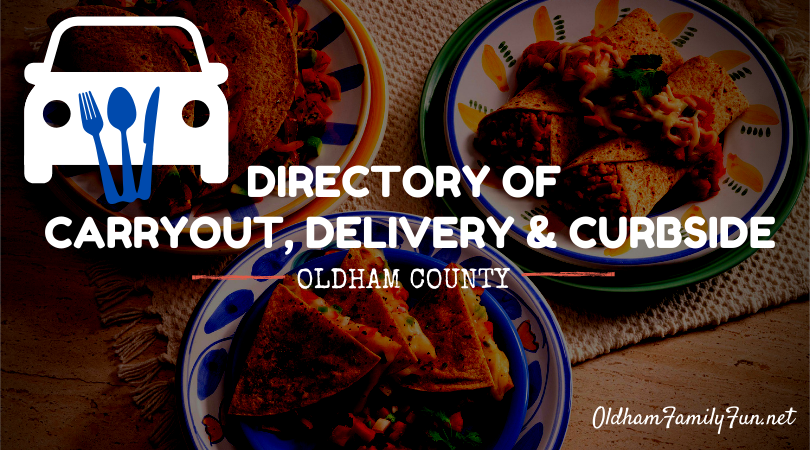 If you see a business that should be included, please let us know-we don't want to leave anyone off! Enjoy your meals and treats!
Juicy's Smokehouse BBQ – offering FREE delivery and they have a drive thru
Crestwood
A Taste of Thai – carryout and curbside
Backside Grill (Located at 3rd Turn Oldham Gardens) – offering touchless ordering with counter pickup, or curbside/car delivery
Cravings Byanca – drive thru
Crestwood Meats – limiting number of patrons inside store
El Nopal Mexican Restaurant – curbside or carryout
Foxhollow Farm – pickup at farm
Gustavo's Mexican Grill – curbside and delivery
Hometown Pizza – curbside or delivery
Mikato Japanese Steak & Sushi – curbside, carryout or delivery through Grub Hub
Rikishi Japanese Restaurant – carryout or curbside pickup
Red Pepper Deli & Catering – carryout pickup
Wilder's Café – drive thru open
Buckner
Bully BBQ – carryout pickup
Fitz Freeze Frozen Treats – drive-thru and walk up window
Frascelli's NY Deli & Pizzeria – carryout
Inspirational Grounds – carryout
Mi Tierra Mexican Restaurant – carryout
Sisters Tea Parlor – carryout
Steve O's Italian Kitchen – carryout
LaGrange
Big R's & Shannon's BBQ – carryout and delivery through Door Dash
Catlett's Deli – carryout
Cattleman's Roadhouse – carryout
Chen Garden – carryout
Dough Baby Donuts – drive thru
Ernesto's Mexican Cuisine – carryout
Gustavo's Mexican Grill – curbside and delivery
Hometown Pizza – carryout and delivery
Jumbo Buffet – carryout
LaGrange Coffee Roasters – carryout
Little Kentucky River Winery – shipping, delivery and safe pickup with appointment
Main Street Bourbon & Ale House – carryout
Raw Sushi Bar & Grill – carryout
Oli Pollo – drive thru and carryout
One Nineteen West Main – carryout
Q&A Sweet Treats – curbside
Red Pepper Deli & Catering – carryout
SavorMex – carryout
Wok – carryout
Centerfield
Headquarters BBQ, LLC – curbside and carryout
Goshen
Prospect