Equility Boarding & Training Center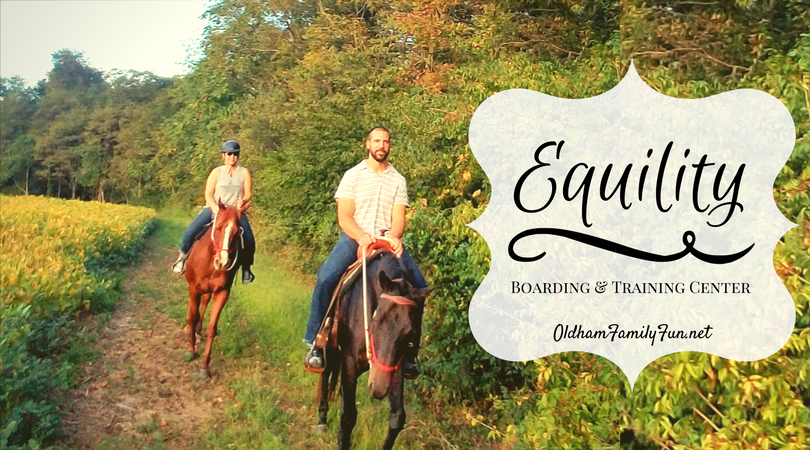 My husband and I recently had the pleasure of visiting
Equility Boarding and Training Center
in Goshen for a romantic trail ride experience. This new equestrian center is home to several rehabilitated and rescued horses. Owner, Brittany Dodson offers visitors and clients an array of services. Her main focus is Therapeutic Riding and Equine Assisted Therapy to children and adults with physical, cognitive, emotional, behavioral, and even learning disabilities. Brittany's love for horses and people was evident when we met for our romantic trail ride.
The evening began with meeting our horses and grooming them together. Brittany talked with us a little about each horse, their background story and personality. I really liked that she explained the importance of first caring for the horse and getting to know them a little before beginning the trail ride. She wants the horse to have a relaxing experience as much as the riders. We were fitted for our saddles, took a short ride around the paddock and were on our way to the trail ride.
The farm is very beautiful. Even with neighborhoods nearby, the ride was quiet and relaxing around several acres of soy bean fields and the sun slowly setting in the Kentucky blue sky. Brittany led our two horses, making sure to check in on us along the way and offer riding tips catered to each of our skill levels. We commented several times that our horses were very well-mannered and calm. We have no doubt it's because of the love and training that Brittany has given to them along with the horse's drive to help children and adults in the Therapy program.
The trail ride was around an hour long. At different times during the year, trail rides will go through the surrounding woods and down to a creek. The terrain had a few hills, but nothing insurmountable with a little help from our guide. Trail rides are generally reserved for small group numbers so that everyone can get the support and attention that they need along the way and also be able to relax.
Once back to the barn, we were offered a place to sit in the shade with some cold water and wait for the next part of our romantic evening. We were serenaded with a song and got to enjoy the peaceful quiet of the farmland. The barn doors were opened where a beautiful and romantic barn setting awaited us.
For about 45 minutes, my husband and I sat together in the pristine barn and our two trail horses joined us in their respective stalls. We sat at the table for two, surrounded by flickering (battery operated) candles and romantic music. Pretty lights were strewn above us, while flowers and light appetizers with sparkling grape juice adorned an adjacent table. There was even a personalized chalkboard with our names written on it welcoming us to our romantic barn setting. When we emerged from the barn, the Kentucky sunset was breathtaking! It's amazing to witness such beauty and have this unique experience right here in Oldham County!
It's safe to say that there is something for everyone at Equility. Lessons, training, boarding, pony parties, trail rides and romantic trail rides are all offered at the farm. I love that Brittany recognizes that both her horses and riders have a story or a struggle that can be told, rewritten and overcome with love, patience and learning. Her professionalism and horse experience allowed us to enjoy an evening together doing something unique and special without a worry in the world. The cost for the romantic trail ride experience is $125 per couple and lasts two hours. Regular trail rides are available at a lower cost also.
Be sure to like Equility's Facebook page to keep up with current events, offerings and other fun happenings going on at the barn. Brittany is always posting about her different horse friends and her therapy programs.
The equestrian center is located at 2481 Belknap Farm Road in Goshen.