Exploring Foxhollow Farm in Crestwood
Foxhollow Farm is a wonderful working farm in Crestwood.

Visitors can explore at their own pace and leisure, learning about farm life, nature and art.
This article describes our experience during the Fall.  Some of the features won't be available year round while others are available annually.  Please also keep in mind that due to COVID-19, parts of the farm will be off limits, events are postponed and curbside pickup is now available.  We contacted the farm and were told that the Nature Trail and Labyrinth are available for visiting Monday-Friday, 9am-4pm. 
Chances are you probably have been to Foxhollow Farm during one of their special events they host during the year.  My family loves the outdoor concerts starting in May and the Fall Festival in October.  This Fall, we decided to explore the farm on a pretty day during the week.
To our surprise, there was a lot to see and do.  Foxhollow is a working farm, so there were tractors bustling around during our visit.  We packed a lunch and ate at one of the picnic tables near the great lawn where concerts are usually held.  The kids played on the haystacks that are a token at Foxhollow.  The open fields were also perfect for running and playing.
Near the concert field there were a few chicken coops, a field of pick your own flowers and the vegetable store.  We explored past the flowers and vegetables and made our way to the Stone Circle and Labyrinth.  It is a short walk on a half paved/gravel road.  Once at the stones, the kids enjoyed running around them, taking photos and looking at the different carvings.  There are a few benches located around the stones also.
From the stone carvings, we made your way through the woods on Foxhollow's Nature Trail.  It is quite pretty this time of year because of the leaves changing colors.  There is a small pond along the one mile trail and it ends at the concert field where we ate our picnic.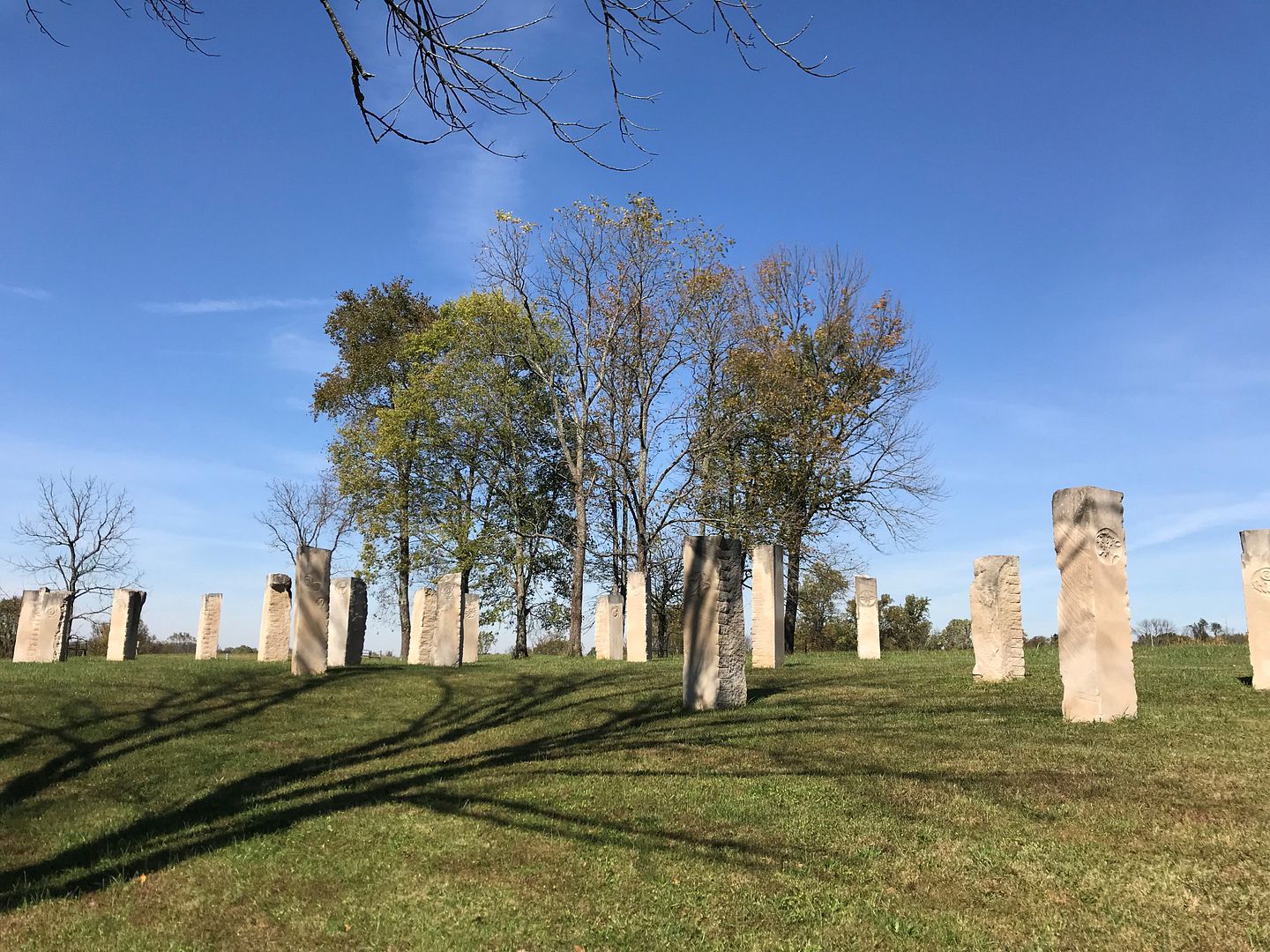 We continued to explore the farm grounds and made our way to the pumpkin patch and corn maze.  On the way to the patch we found a small play structure and the kids enjoyed swinging and climbing.  Surprisingly, the pumpkin patch had several pumpkins still left to pick.  There is a box to put your cash in for payment for the pumpkins you pick.  They are priced at $5 a piece.  The corn maze is right next to the field and was fun to make our way through as well.
We really enjoyed visiting Foxhollow Farm during a weekday and non-special event time.  There's plenty of parking and indoor restrooms (these might be currently closed due to COVID-19) for visitors to use.  There is a farm store (offering curbside pickup right now on MWF 2-4pm) if you want to purchase meat or vegetables.  We were able to see several of the vegetable gardens and we were impressed with the harvest to be found in them!  If you can't make it out to one of Foxhollow's special events, be sure to go check it out with your family soon!
Foxhollow Farm is located at 8905 Highway 329, Crestwood, KY 40014