Halloween Events in and Around Oldham County
Happy almost Halloween! Please enjoy this list of Halloween Events for 2020.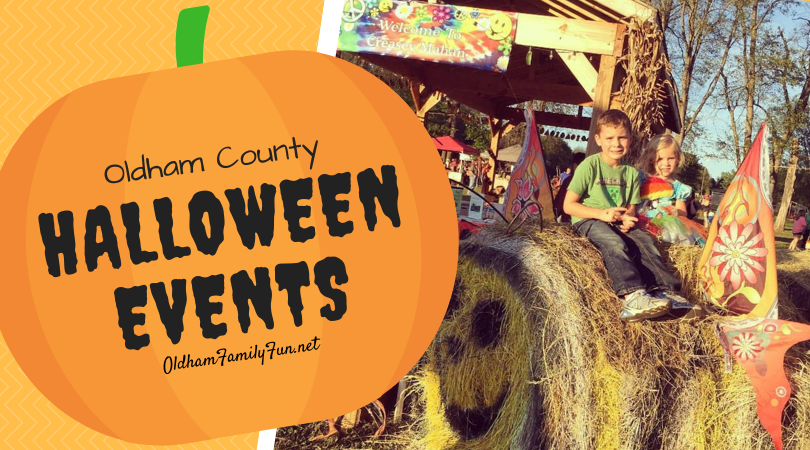 This Halloween Events post for Oldham County is being updated for 2020.
We will update the list as we hear about more Halloween events in the area. Know of a Halloween event? Please let us know so we can add it here! nicolle@louisvillefamilyfun.net

All Halloween Events listed below are TBD unless otherwise noted. Many events are making adjustments due to COVID-19.
HALLOWEEN EVENTS!
10/3: FREE! Ghost Stories on the Square at the Oldham County Courthouse Square in LaGrange, 7:30pm
10/8: Oldham KY Candlelight Cemetery Tours with the Oldham County History Center, 6-8pm. $10 per person, 4 and under are free.
10/10: Halloween Ceramics Workshop at the Oldham County Schools Arts Center in Crestwood, 10am-12pm, $15 per participant
10/10: Trunk or Treat at Sauerbeck Family Drive-in, 6:30pm. $20 per carload, includes two movies.
10/15: Oldham KY Candlelight Cemetery Tours with the Oldham County History Center, 6-8pm. $10 per person, 4 and under are free.
10/18: Skeleton 5k Run & Spooktacular at Wendell Moore Park in LaGrange (Buckner area). 5k at 2pm and Spooktacular (walk through trick or treat, no hayrides or food this year) 3:30-5pm
10/22: Drive-in Library Movie Night at Sauerbeck Family Drive-in. Register for tickets on October 5th. Movie starts at 7:20. Showing Wallace and Grommit Curse of the Were-Rabbit followed by Casper the Friendly Ghost. Each child will receive a treat bag.
10/24: FREE Halloween MAINia in Downtown LaGrange, 10am-5pm
10/24: Trunk or Treat and Movies at Sauerbeck Family Drive-in in LaGrange, 6:30-11pm SOLD OUT
10/25: FREE! Cruisin Candy Crawl at Crestwood United Methodist Church 6-7pm
10/25: FREE! Fall Festival Trunk-R-Treat at Ballardsville Baptist Church in Crestwood, 5pm

10/30: Parent's Night Out (Halloween themed) at the Oldham County Family YMCA in Buckner, 5-9:30pm
VIRTUAL Howl-O-Ween Costume Contest at Feeders Supply in LaGrange. More information coming soon.
TBD EVENTS
If it's on this list, we are still waiting to hear back from organizers.
TBD South Oldham Little League Trunk or Treat at Peggy Baker Park in Crestwood
TBD Covenant United Methodist Church Fall Festival in Lagrange
TBD Saint John United Methodist Church Trunk or Treat in Prospect
TBD LaGrange Fire Safety & Halloween Festival at the Oldham County Fairgrounds in LaGrange. Parking $5. 
TBD Halloween Event Spooktacular Fun at Cabela's in Prospect (Louisville area)
TBD FREE! Mt. Tabor UMC Trunk or Treat in Crestwood
TBD FREE! Trunk 'R Treat at Christ Church at Goshen (now Sojourn Church North) 
TBD FREE! Trunk or Treat at Immaculate Conception Church in LaGrange
TBD FREE! Halloween Haunted House & Trick or Treat at the LaGrange Railroad Museum