Headquarters BBQ in Centerfield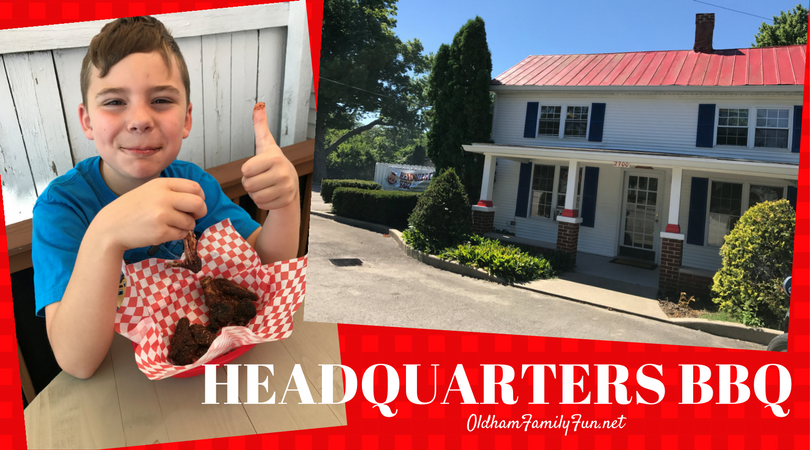 Don't just pass through Centerfield – stop!
There's a new barbeque place right off Hwy 22. The old, red roof building is now the home of Headquarters BBQ, LLC. If you take a look at their Facebook page, you will find that Headquarters has been satisfying the community's appetite for a while now. They do catering and now offer BBQ at their new location at 2700 West Hwy 22 in Centerfield.
The restaurant opened at the beginning of June and their weekly hours are Tuesday-Saturday 11am-8pm. The food offered is typical of a BBQ place: pulled pork, ribs, brisket, and chicken all in sandwich or entrée portions. Side choices range from homemade mac n cheese, potato salad, baked beans, fries and others. The prices were not bad: $3.50 for a thick slice of BBQ Bologna or $24.50 for Baby Back Ribs.
Even though the food was traditional BBQ, the flavors were very unique! I tried the Sliced Beef Brisket entrée with a side of baked beans and potato salad ($13.50). My son had wings (six for $6) and my daughter had a kid's chicken tender meal ($4). The Brisket was delicious and very tender. You can request sauce for it, but I didn't feel like it needed any. I loved that the potato salad and baked beans were obviously homemade. These were not from a tub trucked in from Sysco. The potato salad was light with chunks of potatoes and slices of celery and green and red peppers. The baked beans were very filling and flavorful. There were chunks of hamburger and peppers in the baked beans, which made for a unique side item.
I had to explain to my Buffalo Wing loving son that the wings at Headquarters BBQ were a little different from what he usually eats. These wings are marinated, rubbed and then smoked. You can see the rub on the wings and it's tasty. My son enjoyed them!
The kids meals are $4 and under and are good portions for the price. There is a BBQ pulled pork quesadilla that I was wishing one of my kids had chosen so I could sneak a taste of it! Don't forget to ask about desserts! Again, more homemade deliciousness!
Inside the restaurant there are a couple of tables and chairs set up for dining or you can sit at a bourbon barrel tabletop on the back deck. The deck has lots of shade and it's nice if you want to eat your food at the restaurant versus getting it to go.
I love that the red roof house is now home to another family owned and run business. We hope you stop in soon and give Headquarters BBQ a try!