July Re-Openings and Events around Oldham County
Many businesses are beginning to re-open and we want to keep you up to date! Please keep in mind that this list can change at any time.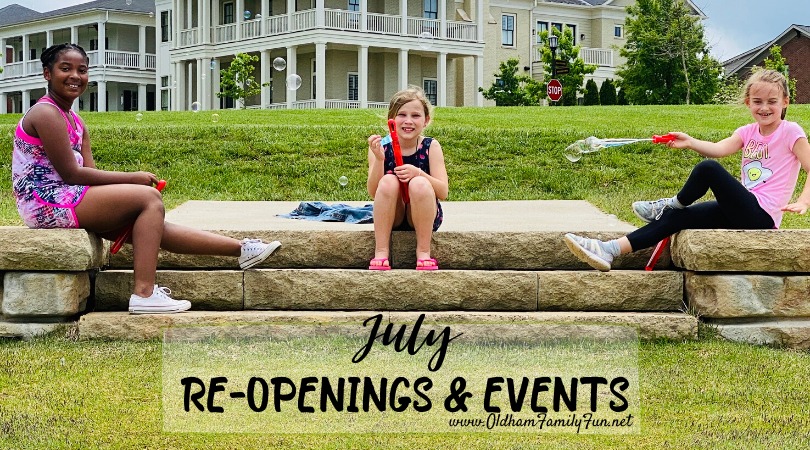 Also, please remember that most places have social distancing practices in place, COVID-19 guidelines that they are asking guests to follow or ask for pre-registration.
JULY RE-OPENINGS & EVENTS AROUND OLDHAM COUNTY
For Louisville business re-opening information, click HERE

RECURRING:

Yew Dell Botanical Gardens in Crestwood is open Tuesday-Saturday 10am-4pm and Sunday 12-4pm
LaGrange Farmers' Market & Artisans is open on Saturdays 9am-1pm
Food Truck Fridays at Norton Commons in Prospect. Every Friday 6:30-8:30pm
North Village Farmers' Market at Norton Commons in Prospect. Every Sunday 1-4pm
Sauerbeck Family Drive-in in LaGrange is showing movies every night and scheduling special events. Check out retro Wednesdays where admission is only $10 a carload.
All About Kids Sports Center in Crestwood is open for open gym and swim, Monday-Thursday 2-4pm.
Oldham County Public Library branches are re-open.
EVENTS:

Monday, July 6th – Re-opening of the Don & Elizabeth Buchanan Splash Pad in New Castle.
Wednesday, July 8th – Re-opening of the LaGrange Railroad Museum. Open on Wednesday, Thursday, Saturday & Sunday 1-5pm
Thursday, July 9th – Bourbon & Botanicals at Yew Dell Botanical Gardens in Crestwood. 7-8:45pm
Friday, July 10th – Hermitage Farm Tours re-opens.
Sunday, July 13th – Re-opening of Power & Grace Gymnastics Open Gym Sundays in Prospect. 3-3:50pm and 4:15-5:05
Friday, July 17th – Outdoor Movie at Saint John United Methodist Church in Prospect. Showing The Prince of Egypt at 8:30pm FREE
Saturday, July 18th – Summer Barnyard Fun at the Oldham County History Center in LaGrange. 10am-12pm FREE