Neveria y Paleteria Cinco de Mayo
Downtown LaGrange has a yummy frozen treat shop that you should try soon!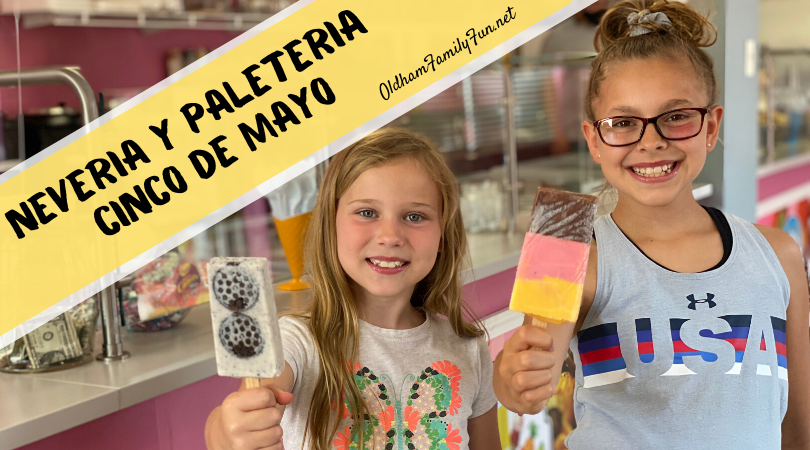 Located just off of Main Street in LaGrange at 101 South Walnut Avenue, Neveria y Paleteria 5 de Mayo has a popsicle or ice cream flavor for everyone! We recently checked it out after adding it to our Ice Cream and Cool Treats Oldham County list.
The shop has authentic Mexican homemade ice cream and snacks.  We were pleasantly surprised by the variety of flavors to choose from. There are cream and water Popsicle in 20+ flavors.  Priced at only $2 per Popsicle, this is an affordable treat for families to enjoy. We tried the cookies & cream, Neapolitan, coffee and watermelon Popsicle during our visit and they were delicious and fresh! The cookies & cream Popsicle had two big cookies in it and the watermelon had chunks of fruit inside of it also.
Some other unique flavors include: eggnog, spicy watermelon, avocado and pistachio. If you're a little unsure about trying a certain flavor, there are .75 cent mini Popsicle that are perfect for a taste test.
During a previous visit, we tried the eggnog, cheesecake, Gansitos and Ferrero Rochet ice cream. The scoops were generous and the ice cream was creamy and delicious.  Three of us enjoyed ice cream for under $10. The shop can make other frozen ice cream treats like sundaes or shakes.  We've heard that the Mangonada is worth trying!
Whatever frozen treat you try from this family business, you won't be disappointed.  Their treats are unique, fresh, yummy and affordable. Next time you're in Downtown LaGrange, stop in the shop to check out what they offer and support this local business.  There are a few tables and chairs inside the shop or you can walk down Main Street and find a bench or rocking chair to sit and enjoy your dessert.Business hours are:
Monday-Saturday 12-9pm
Sunday 2-9pm