Outdoor Movie Night at Home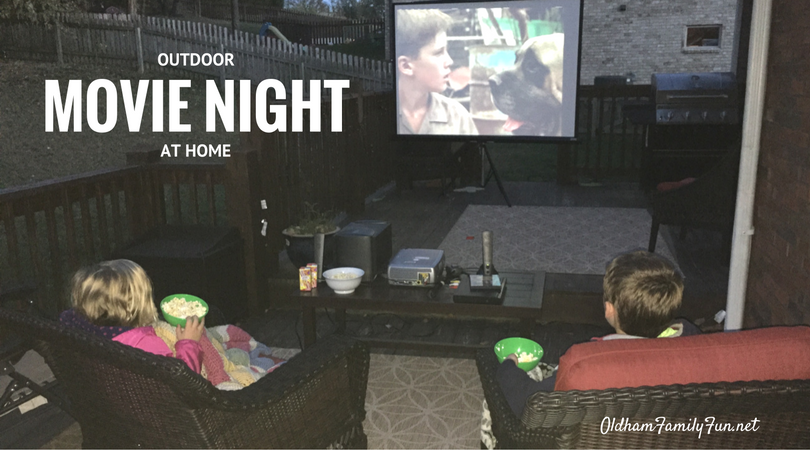 We are home for Fall Break and so far, the weather has been beautiful for us staycationers. The beautiful weather has allowed us to spend fun nights around our small campfire in our backyard, but we were wanting to do more outside without breaking the bank. We came up with the idea of having an outdoor movie night. I got on Pinterest and found a few DIY projects, got brave and started planning our PVC pipe and white sheet movie screen. We still needed a projector though. I remember someone telling me that the
Oldham County Public Library
has a projector that library cardholders can borrow. Problem solved!
I called the main library in LaGrange to ask about the projector and they told me they also have a large screen. No need for my DIY project! We quickly went to the library to check out the projector and screen. Both items come in a nice carrying case. The screen is quite heavy and long. It is about 73″ long, so make sure it will fit in your vehicle. We loaned some DVDs from the library for our movie night and we were on our way.
When I opened the projector screen I was a little lost; I've never used a portable one before. There are no directions enclosed in the bag, so google was my go-to. Once I finally watched a couple of videos, set up was easy. The whole set up consists of a tripod stand and the actual screen (the heavy part).
The InFocus brand projector was a little trickier. Originally, my thought was to hook it up to my laptop. The helpful librarians did tell me that it needed a special cord if I was using a Mac. I wasn't using a Mac, but I still did not find a way to hook it up to my semi-new Dell laptop and I was looking for simple and cheap. I didn't want to have to purchase any cords or other equipment for this family fun. I looked at the 3 connector cords the projector came with and decided to use the one I was familiar with-the trusty composite video connection cords. That's the fancy word for the double ended red, yellow and white cord. I knew this would work using my DVD player and it did. The projector also comes with an S-video connector and VGA connector cord. Again, I wanted simple and went with what I knew. I didn't want to spend money or a whole lot of time figuring this out.
There is a speaker on the projector, but we ended up hooking up a computer speaker set that we already had. This really amplified the sound outside for us. We started to notice that we could make out the movie a little before sunset (around 7PM during Fall Break). The picture was perfect once it was completely dark.
We loved this free family night! We set up the equipment on our deck, repositioned our deck furniture, popped some popcorn and grabbed some extra blankets and were set! Clean up was simple too. We plan to do a couple more movie nights during Fall Break. You can request to have the equipment for an extended amount of time if you want, allowing you and your family to enjoy many free fun nights together!