Spring Break Fun with Giants at Bernheim Forest
If you're staying home for Spring Break, we have a fun day trip idea for you!
Head down to Bernheim Forest and check out the Forest Giants!
We visited Bernheim Forest's three giants this past weekend and they were so cool to see. Bernheim Forest has several fun activities and events planned during April 1-5. Check out their Facebook event here for more details. There are concerts, discovery stations, walks and more planned all around the three giants.
Some tips for families planning to visit Bernheim Forest to see the Forest Giants:
1. Prepare to walk a little. Two of the giants are close to parking areas (Little Nis and Mama Loumari). The third giant (Little Elena) requires a little bit of a walk (not too far though) to reach her. If you want to walk to all three of them, the whole trip is about two miles. It's a flat walk on pavement along Arboretum Way and gravel trails near Lake Nevin (these might be tricky for some strollers). We walked on Arboretum Way and then cut through the fun grassy field trails on our way back to our car.
2. Pack some snacks or a picnic. How cool would it be to eat your lunch with a giant? If you forget to pack something to eat or drink, there is a cafe at the visitor's center.
3. Grab cash and quarters. There are machines for turtle and duck food near Little Nis. If you visit on Saturday or Sunday there is a $5 charge (for non-members) to enter Bernheim Forest. They do take credit cards, but cash is fast.
4. Be patient. These giants are popular. On the day we visited, many families were taking turns getting a picture of the giants. Everyone's excited! Mama Loumari has an entire area behind her to check out. Take some time to look around at what the artist, Thomas Dambo, created.
5. Hints on finding the giants: You'll see Little Nis on your right as you approach the Visitor's Center. Mama Loumari is either a walk or drive over near the Sun Shade Loop. The third lounging giant, Little Elena, is on the backside of Lake Nevin in the park. See a map of Bernheim Forest here or be sure to grab a map at the Visitor's Center.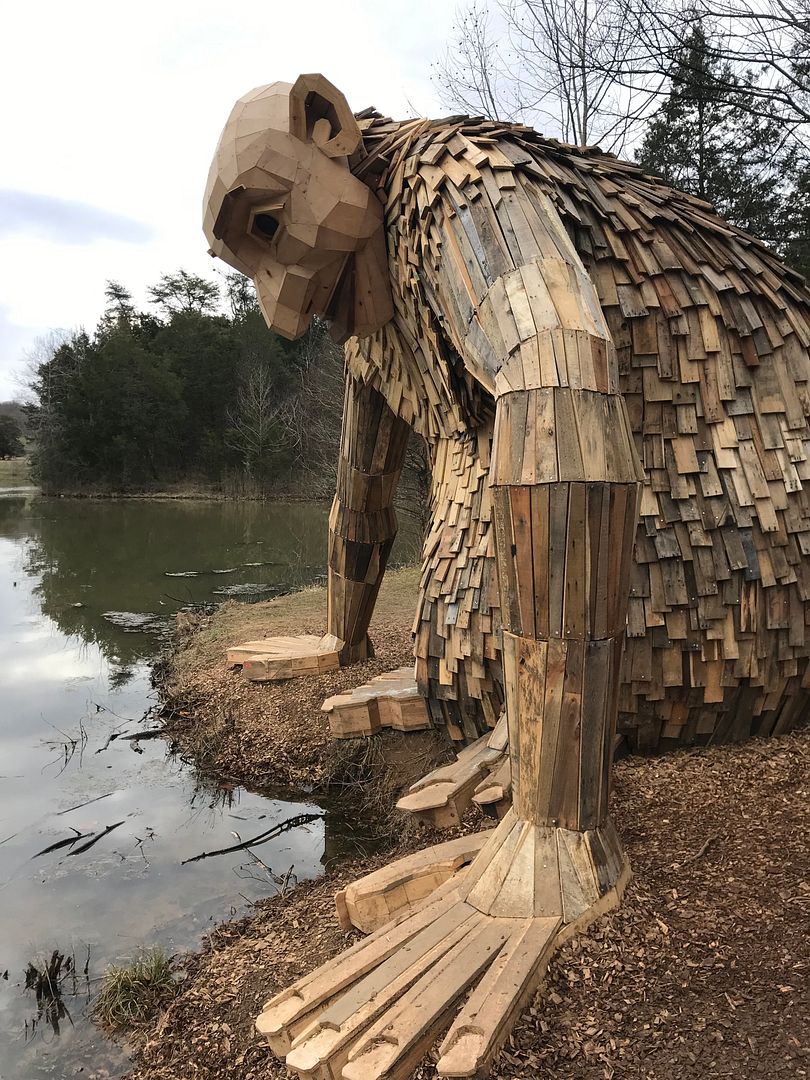 We loved visiting the giants. We had never explored down by Lake Nevin in the park. Because we walked to each giant, we got to see many parts of the park we normally skip over during Bernheim's special events. We hope you get to explore Bernheim and experience these wonderful sculptures over Spring Break. If you miss them over the school break, don't worry they will be at Bernheim 3-5 years.
Bernheim Forest is located at 2075 Clermont Rd, Clermont, KY 40110
Park hours are: open daily 7am-8pm
$5 entry charge on Saturday and Sunday