Walking Trail at the Oldham County Family YMCA
The Oldham County Family YMCA has wonderful trails that are a great place for families to enjoy the outdoors while social distancing. We recently checked it out for ourselves.
Our family is always looking for ways to enjoy family time outdoors.  The recent COVID-19 quarantine has our family yearning for outdoor time more than usual. Luckily, our local YMCA offers a place for families to enjoy any time of year.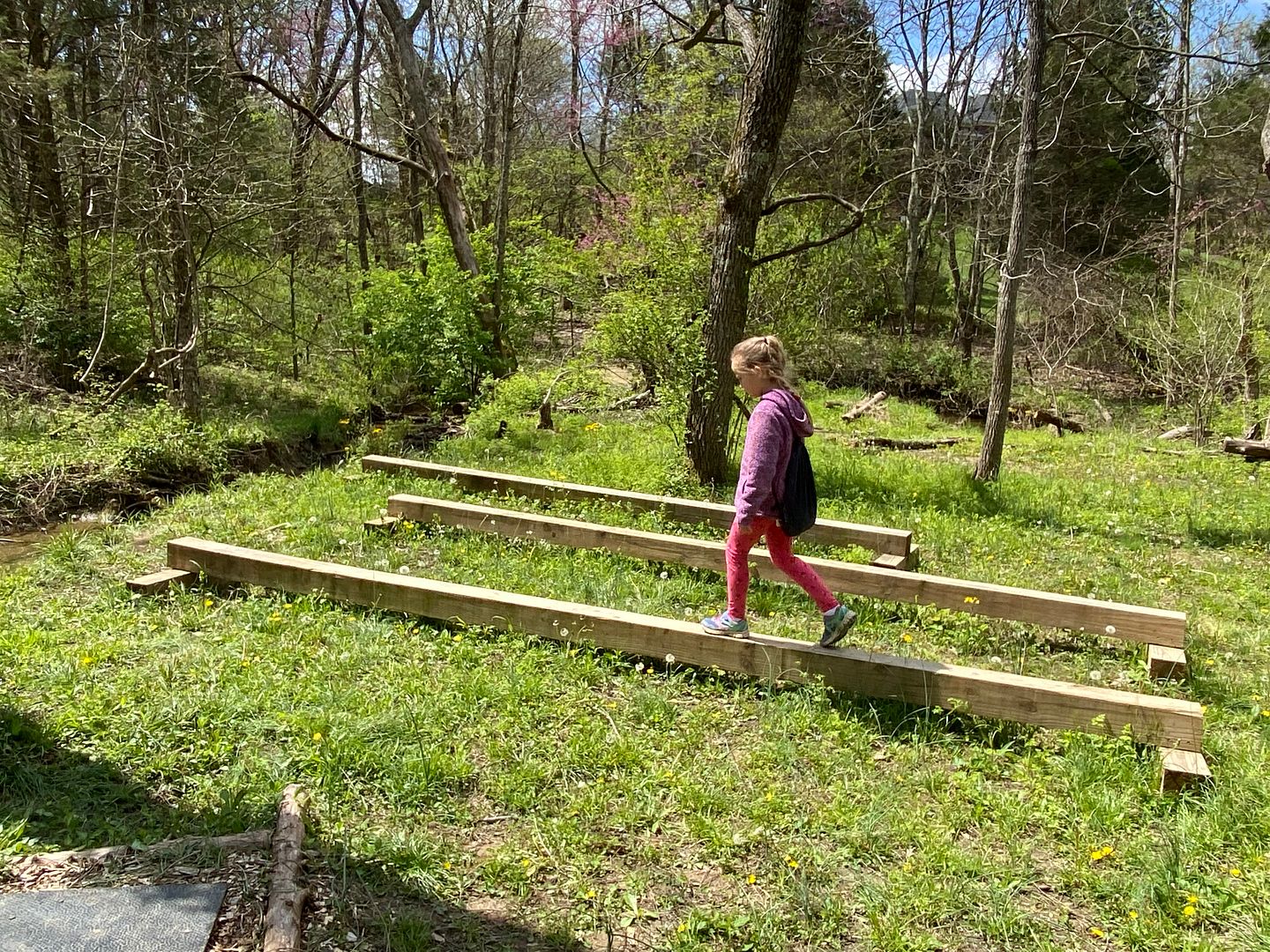 We learned about the trails while listening to the YMCA's podcast
The Lowdown at the Lodge
. The entrance to the gravel trails can be accessed at the front and back of the building. There are three
additional trails
within the wooded area.  We started on the gravel trail and then veered down in the inner trail.  Once we were on the inner trail, we came across a small creek with several wooden bridges for crossing.  The creek would be a great place for kids to explore in their rainboots or for your four legged walking buddies to splash around in too.
Along the trails you will also find several of the YMCA's Family Mud Run obstacles.  Some of them can be enjoyed without touching them with your hands.  You will also find a disc golf course along the trails.  We did encounter a group playing disc golf, but the area is big enough and the trails wide enough that we were never in each other's ways.
The trails total 3.25 miles.  There is some incline in some areas as well as rocks, but nothing was too strenuous.  We also found it easy to change course and pick a new trail if we didn't want to go in a certain area.  The trails are gravel, grass and dirt (which were a little muddy in some areas because of the rain the previous night).
A part of the Oldham County YMCA's mission statement is to help build a healthy spirit, mind and body for all.  The trails at the Buckner location certainly benefit the community's well-being.  It's a great way for families to get outside together while still social distancing.
The Oldham County YMCA is located at 20 Quality Place in Buckner.